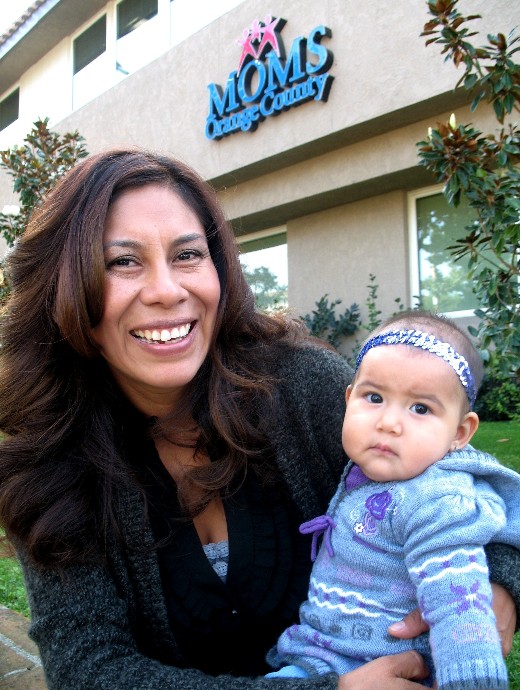 November is National Diabetes Awareness Month.  Get to know Ana, an exceptional mother with gestational diabetes, as she shares about her journey with MOMS Orange County.
Ana was six months pregnant and had just been diagnosed with gestational diabetes when she came to MOMS Orange County (MOMS).  It was at MOMS where she learned more about her condition and the potential impacts to her pregnancy.  Ana immediately took full advantage of the services offered by MOMS with an open mind and a strong desire to deliver a healthy baby. Although Ana also had a nine year old son, she was determined to learn how to make this pregnancy and delivery a better experience.   "I wasn't very happy during my first pregnancy.  With the support from MOMS, I was able to actually enjoy being pregnant and am now a better mom to both my son and baby daughter, Victoria" says Ana.
At MOMS, Ana began taking Diabetes Management classes with MOMS Diabetes Coordinator, Martha Londoño, and followed all of the recommendations.  Ana not only changed her diet—by eating less bread and oil, drinking more water, and eating much smaller portions—she influenced her husband and son to eat healthier as well.  She started to exercise more by doing a lot of walking and strengthening exercises.  As a result of her improved diet and exercise regiment, she was able to eradicate her diabetes!
In addition to attending the diabetes workshops, Ana attended other classes at MOMS, including the Prenatal, Breastfeeding and Childbirth Preparation Classes.  Insistent that her husband play a significant role in the birth and growth of their baby, she brought him to the Childbirth Preparation classes and continues to teach him about what she learns.
After experiencing difficulties with breastfeeding, Ana sought the support of MOMS Breastfeeding Coordinator, Martha Arámbula.  Martha recalls Ana's perseverance and desire to learn:  "It wasn't easy at first, but Ana never gave up.  She sets an example for other clients because she shows them that it is possible!"  As a result, Ana has been breastfeeding her daughter exclusively for over six months.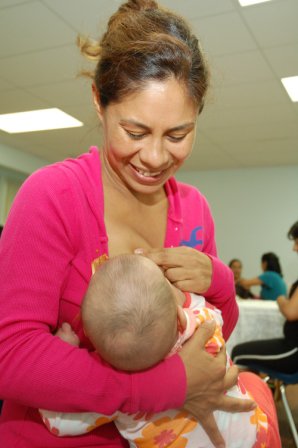 Ana is currently taking the Mommy and Me Infant Development workshops with Gabi Velasco where she learns about her baby's development, how to bond with her baby through playful exercises and meets other parents in her community. "Ana is an inspiration to women because she breaks cultural boundaries that have been set in stone for generations.  She has become so independent and empowered to take control of her life and you can clearly see it in the way that she nurtures her children," remarks Gabi.
In addition to attending classes, Ana continues to receive monthly home visits by Monique Garcia, a Maternal Child Health Coordinator at MOMS.  Monique shares that when Ana initially called in to refer herself, she scheduled home visits for early in the morning, which to her was a first sign of dedication.  Initially, Ana was very reserved and quiet, but Monique says that she has opened up quite a bit and is showing a more vibrant and humorous personality.  "Ana has been such a great client and is an example to others because she is consistent and dedicated—she's a trooper!" added Monique.
Ana has set a high standard as a MOMS client.  Using all the resources and information available to her at MOMS, she has absorbed the information that she learned and applied them to her life.  In addition to being a great client, Ana has also become a "super, SUPER volunteer" at MOMS, donating her time, which is of the highest value.  Ana even began volunteering at MOMS when she was still pregnant!  Ana appreciates the escape from the monotony of being at home and enjoys being involved with the community and continuing to learn from the staff at MOMS.  "She is a special woman and enjoys working here everyday.  It is like a second home for her and her baby," says Martha Londoño.
Even in her quiet, gentle way, Ana is spreading the word about MOMS and reminds others to bring in donations and contribute to the organization.  When she visits her doctor's office, she tells others about the services at MOMS and motivates them to take the classes.  She says, "MOMS is an important resource in our community that offers many services that take away any doubts or worries about pregnancy and childbirth."  She commented that she is now much happier and is able to truly enjoy being a mother.  Not only is Ana much healthier and confident after making the lifestyle changes that she learned about at MOMS, she has a healthy and happy baby, Victoria, to show for it!
By Orly Ninyo, MOMS Orange County Intern
For the past two years, Orly worked as health coordinator at a high school in New York City for HealthCorps, a non-profit with a mission to combat childhood obesity and other diet-related diseases. Through the HealthCorps experience, Orly realized a desire to focus on the earliest form of prevention–during pregnancy and early parenting, which led her to MOMS Orange County.  She is currently applying for graduate schools to become a Family Nurse Practitioner.