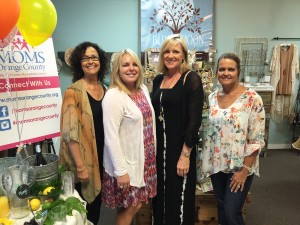 As Blue Moon's Charity of the Month, MOMS Orange County received 10 percent of every purchase made on clothing, accessories and home goods throughout June – a total of $2,300.
"We were thrilled to partner with MOMS Orange County and honor them as our Charity of the Month," said Seal Beach-resident and Blue Moon owner, Patti Blake. "Our boutique is committed to supporting organizations like MOMS Orange County that make a positive impact in our community."
In support of at-risk mothers and families served by MOMS Orange County, Blue Moon in Garden Grove hosted a "Sip and Shop" event on Tuesday, June 14 from 5 p.m. to 8 p.m.  During the event, more than 40 shoppers enjoyed hourly raffles with prizes plus complimentary snacks and refreshments.
"We are honored to have been selected as Blue Moon Boutique's Charity of the Month," said MOMS Orange County CEO Pamela Pimentel, RN. "It gives us great joy to partner with local businesses that are dedicated to improving the community and furthering our mission to support at-risk families in Orange County."
Blue Moon is a philanthropic, community based boutique and a gathering place for people interested in coming together for friendship, fun and fashion as well as helping others in the community and beyond. Since 2012 Blue Moon has donated over $100,000 to local non-profits.
Proceeds donated from Blue Moon will benefit families served by MOMS Orange County.