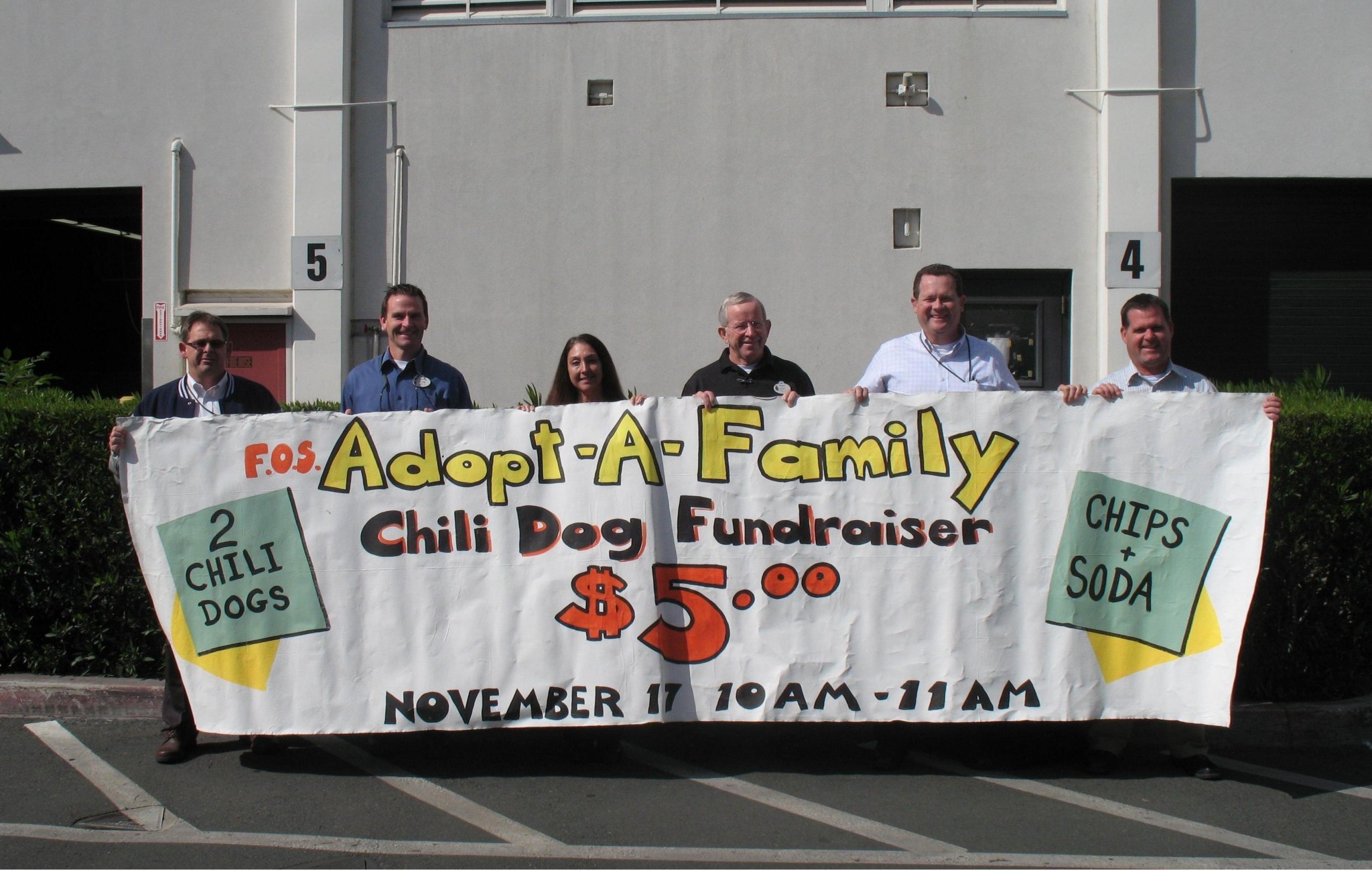 MOMS was pleased to have the participation of more than 109 client families (totaling nearly 500 individual family members) in our December 2010 Adopt-a-Family Program in addition to the many hours of support by our community volunteers.  In the last two weeks of December, our building was abuzz with volunteers, babies, and staff and of course, our community "angels" dropping off gifts full of smiles and holiday spirit.  Oftentimes, we don't get a chance to hear the "behind-the-gifts" story of our donors and their efforts.  This month, we're very excited to share a personal anecdote from Sandy Sorenson from the Manufacturing Team at The Disneyland Resort.
Once upon a time in one of our morning meetings, I mentioned it was time for our Adopt-A-Family Holiday drive and Manager, Gale Maxey of our Animation/Figure Finishing Department, suggested we put on a fundraiser. He also suggested cooking chili dogs along with a bag of chips and a soda for $5.  We have done fundraisers before, so we're kind of experienced!  We decided on a sunny Wednesday.  From Gale and Sandy doing the major shopping, to Gale and Rusty doing the cooking, to Glenn, Karl, Greg, Lori, Sandy doing the serving, to Kevin overseeing the drinks, and Gary being the ticket taker, we all stepped into character without a blink of an eye.  Gale's department also created the banner and helped with the setting up of the ez-ups and grills.  With every donation, a Cast Member received a raffle ticket to win movie tickets.  This was a big hit!!  We want to thank all of our teams for their appetites.  J  We also did a candy bar fundraiser two weeks ahead.  We raised enough money for the families to receive all the items on their wish list and more.  It was a lot of work, but to know this was for a very good cause is a reward in itself.
On a personal note, I enjoy the good feeling I get when doing our yearly Adopt-A-Family.  Several years ago, I was on the other side of the coin of not knowing where to turn to being a young single mother with a baby to house, clothe and feed.  These kinds of organizations did not exist.  When I see the pictures of these families, I feel their relief of knowing the mothers, babies and their families will have peace of mind and to be able to enjoy the holidays thanks to our contributions.
Sincerely,
Sandy Sorenson
The Disneyland Resort
Manufacturing Team