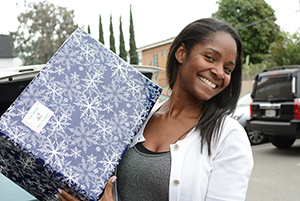 Tustin native Latoya Rucker grew a heart for giving back after spending time living in a local shelter and motels as a child. Her parents married young and divorced early. Her mother, a factory worker, did her best to raise three children as a single mom and often worked multiple jobs just to make ends meet.
One year when Latoya was very young, she remembers her mother telling her that she and her siblings would not be having a Christmas.
One evening, to the Rucker family's surprise, a group of strangers knocked on their door with a Christmas tree, fixings for a holiday meal, and an abundance of gifts, resulting in a moment that would impact Tucker's life forever. Since that moment, Tucker has set out to make a difference in the lives of single-parent households and struggling families by volunteering and giving back, in hopes of touching others in the same kind and thoughtful way that she was when she lived in a shelter.
For the last five years, Latoya has provided families and children with many genuine gifts and necessities, including scooters, diapers, coloring books, Barbie houses, basketballs, and educational books through MOMS Orange County's Adopt-A-Family program.
This year, Latoya's efforts to bring joy to families around the holidays helped 35 families get adopted through MOMS Orange County's Adopt-A-Family program.