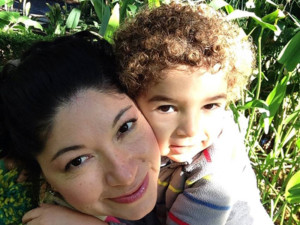 MOMS has been like a temple to me — a sanctuary when I was expecting and then later as a mother I could go to learn about myself and make friends with other mothers and their children.
Thanks to MOMS Orange County my family began to grow not only with the birth of our son Leo, but also with the arrival of other children in my life – those born to my friends who were experiencing the same things as I was: becoming mothers.
I was encouraged to build bonds of friendship in our classes. Through text messages, e-mails, phone calls, and play dates I cultivated and reaped the wonderful rewards of the friendships I have been given.
I felt profoundly grateful for the space that MOMS created for us, for the love and wisdom that the teachers shared with us and for the sacred friendships I was building.
I've learned a lot: to not let go, to love each other, support each other, to grow together and above all, to be empowered. I learned to take turns, to be the mother that I've wanted to be, to be the child that I wanted to be, to accept the opportunity to start over and take advantage of the infinite possibilities this country has to offer.