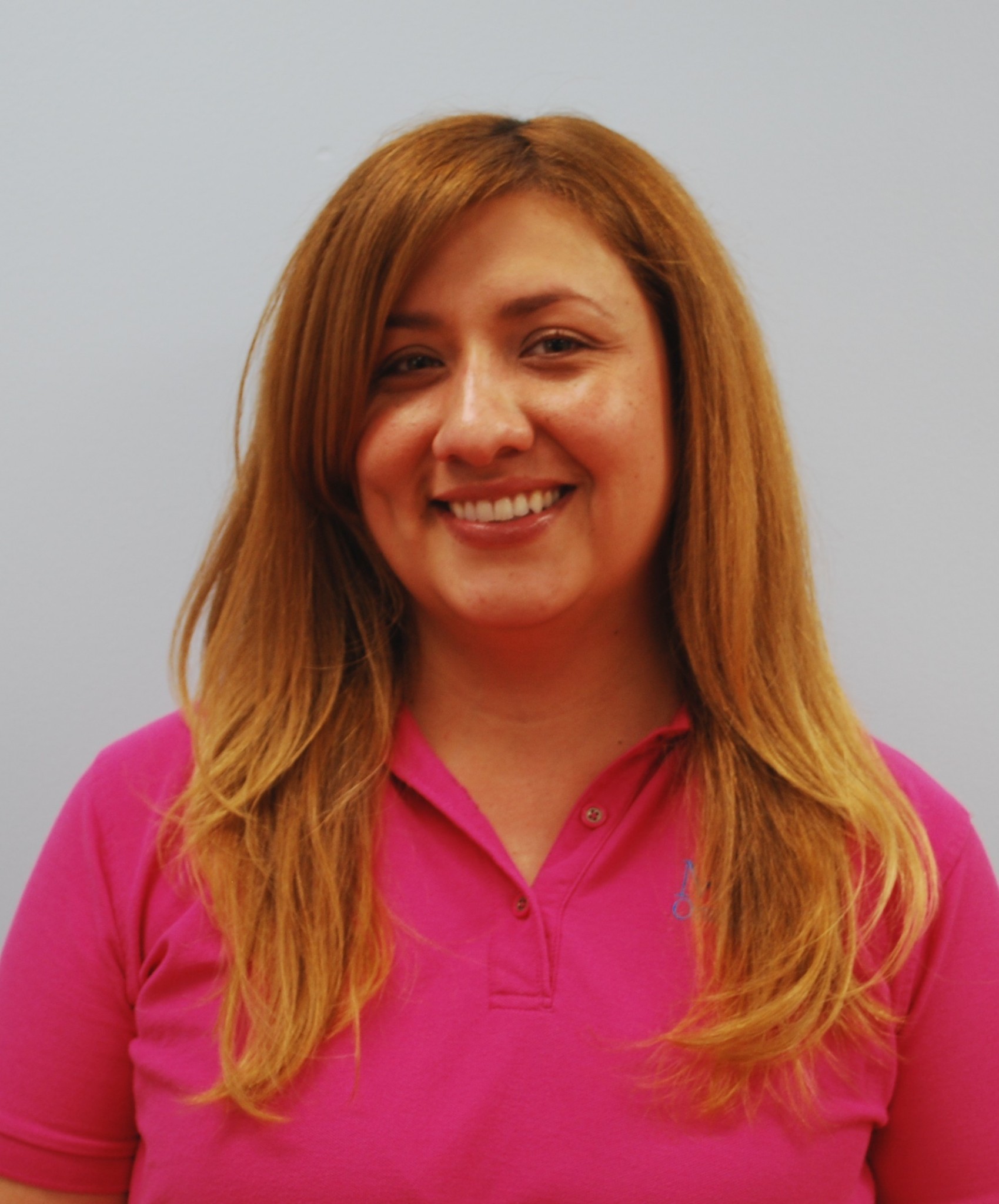 MOMS Orange County serves our community through the commitment of many dedicated people working in collaboration with one another to educate and support our clients. These individuals put into motion the mission of MOMS Orange County through their hands, feet, hearts and minds.  In each Lil' Bits edition, we will introduce you to one of the many valuable people at MOMS Orange County who bring our mission to life.
Lupe Garcia first encountered MOMS Orange County (MOMS) in 2002 as a Child Development Specialist tasked with conducting the Ages & Stages Questionnaire (ASQ) training for MOMS staff during an expansion of MOMS services to include infant health and development screenings as a component of the Home Visitation Program.  During her time working with MOMS staff, she was struck by the level of depth of the home visitation model, how well each home visitors got to know their clients and the comprehensive mother-baby education and support – the program not only helped the baby but also was concerned about the needs of the mother and entire family.  There was no doubt in Lupe's mind – she wanted to be a part of MOMS. In her nine years as a Maternal Child Health Coordinator (Home Visitor), Lupe has seen MOMS grow from 10 compassionate home visitors cramped in a small office space to a thriving organization propelled by a staff dedicated to serving babies and their families in Orange County.  
MOMS has come a long way.  What compels you to stay after so long?
Every client that I see is not someone who I have met before. Each client and family I work with comes with different needs, questions and concerns. I stay because there is still a need and still many people who need the education, resources and support. If we can make her feel comfortable, acknowledge her concerns and help to alleviate any stress she is coping with during her pregnancy, and encourage her to address things with her doctor, then its worth it.
What has been your "a-ha" moment at MOMS?
I always have a-ha moments. During a visit with one of my clients, I noticed that she was exhibiting signs and symptoms of preclampsia – swollen hands and feet, and difficulty breathing. Concerned, I asked her if she had talked to her doctor about her condition and she felt that it could wait until the following week's doctor's visit.  Knowing the dire consequences of preeclampsia and its potential effect on her baby's health, we called the doctor right then and there and he asked to see her right away. The next day, she was hospitalized.  Due to our quick action, we were able to prevent her preterm labor and any subsequent complications the baby could have suffered. Knowing that the opportunity to identify such warning signs and take immediate action was based on my presence and relationship with the client reminded me of how important our work can be for families in our community.
What is your feeling about your role at MOMS as a Home Visitor and on an even broader scale, your role in the community?
Without a doubt, MOMS impacts the community by empowering our clients to make a commitment. Our visits, classes and linking clients to needed resources consistently show our commitment to the health and success of their families. I had a new mother who was so intent on breastfeeding her baby that she left the hospital and came straight to our office at MOMS to talk to Martha (MOMS Breastfeeding Coordinator).  She was so determined to have a successful breastfeeding experience from the very start, going to classes to learn about the benefits and asking the right questions. I remember that she told me, "I've worked too darn hard preparing to breastfeed my baby that I refuse to quit."  Even now, after going back to work full-time, she is still exclusively breastfeeding. It's amazing.
Tell me about yourself outside of MOMS.  Where did you grow up?  What do you like to do for fun?
I grew up in Hanford, a small town near Fresno and came to Orange County to study Sociology and Psychology at UCI.  I spend my free time caring for my mom who has been living with cancer for over four years now, as well as enjoying the company of friends, church involvement, and finding different activities to challenge myself – not only mentally but physically. I love the outdoors and enjoy walking and going to the gym.
Thank you, Lupe!