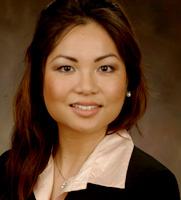 MOMS Orange County has announced the appointment of Tami Bui to its Board of Directors.  Ms. Bui is currently the Local Public Affairs Region Manager at Southern California Edison.
"I am honored to serve on MOMS Orange County's board on behalf of Southern California Edison, said Tami Bui, Edison's local public affairs, region manager.  MOMS Orange County has a proven track record for helping families, and in turn, helping the larger community.  At SCE, we place a high priority in helping the communities we serve by addressing their needs and create opportunities for their future."
Recently nominated for a 2009 Orange County Business Journal Women in Business Award, Ms. Bui's varied background includes working on legislative policy at the local and state wide level and extensive community experience, including serving on the Board of Directors for the Golden West College Foundation, Cypress College Foundation, Chambers of Commerce for Los Alamitos and Huntington Beach, and the Vietnamese American Arts and Letters Association (VAALA).
Before her appointment to the Board of Directors, Ms. Bui served on the VietMOMS Advisory Committee where she was actively engaged in the development of VietMOMS, a model of maternal-child health care coordination serving low-income Vietnamese families to improve the birth outcomes and health status of mothers and their babies in Orange County.