MOMS Orange County thanks Hanna Andersson for its tremendous generosity in August and September 2010.  Through its "Hanna Me Downs" promotional giving program, Hanna Andersson donated more than 900 new and gently used children's books to MOMS Orange County families.  The donated books were brought in by customers in exchange for a 20% discount on new merchandise at its store location at Fashion Island in Newport Beach.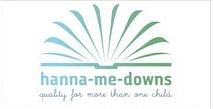 The mission of Hanna Andersson is to share its passion for outstanding quality and care for children by providing uniquely styled, long lasting and comfortable clothing that lets kids be kids and is inspired by its Swedish heritage and socially responsible business practices.
MOMS Orange County values the development of early childhood literacy.  Early literacy is promoted by showing parents how to read to their children and parents are encouraged to read to their infant daily and to allow their infant to play with and hold books as often as possible.  To organize an infant and children's book drive on behalf of MOMS Orange County or other ways to support MOMS Orange County, contact Michele Silva by email at msilva@momsorangecounty.org or call (714) 352-3420.
*picture courtesy of Hanna Andersson