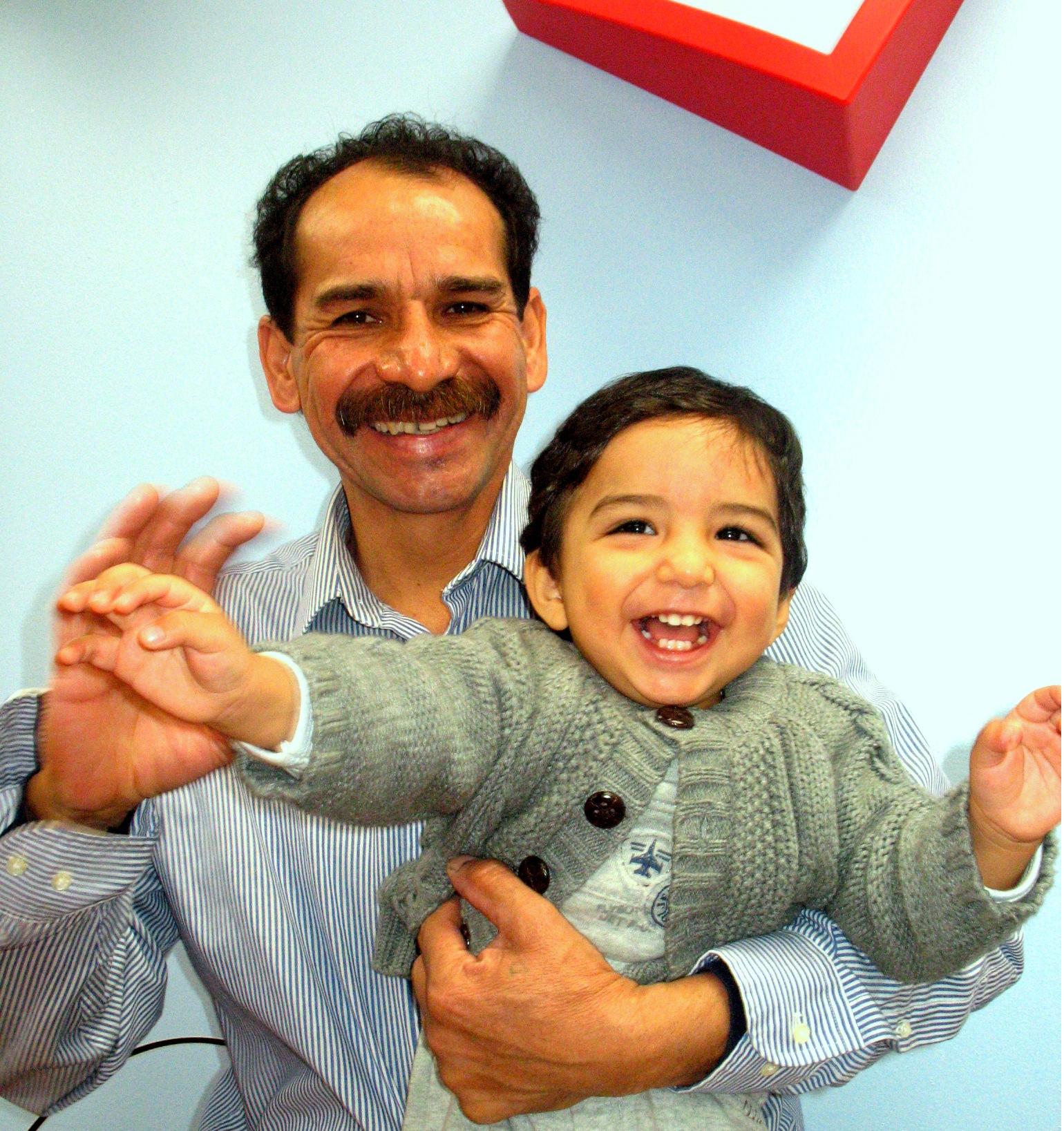 Anyone who meets David Guzman and his son, little David, will tell you that this father and son have a special bond.  David's delight and pride in his boisterous toddler is evident in the way he cares for his growing son.  This commitment to be an "involved father" was fostered in MOMS Orange County (MOMS) programs and specifically for David, when he began the MOMS Workshop for New Dads (Taller Para Papas). Like many new dads, David was excited about his baby but did not know how else he could contribute.  MOMS Workshop for New Dads became a safe space for David and many other men to learn practical skills, share their personal stories and support one another.  David's noticeable change has transformed his relationship with wife, Ivonne, and his family and community.
Ivonne Guzman began receiving monthly home visits from her MOMS Maternal Child Health Coordinator, Monique, when she was just two months pregnant. During visits, Monique also told Ivonne about the various health education classes MOMS offered.  Although she had a 15-year old daughter from a previous marriage, Ivonne felt it would be beneficial to learn something new and asked her husband, David, to accompany her to the evening prenatal class at MOMS.  Both he and their daughter, Amairany, attended the class.
"When Ivonne first brought up the notion of going to class, I thought it was because she wanted to socialize with the other ladies so I went along with her because she asked me to go," David recalls.
When they arrived, David was surprised to see three other men in the class.  As it turned out, learning about his baby's growth and development in the prenatal class was very exciting.  "I learned so much from that first class," David shared, "Juan Diego is an excellent instructor and knows how to build relationships and respect with class participants, and his engaging style holds everyone's attention."
Although David looked forward to the arrival of their baby, he was unsure about his role during the pregnancy and did not know how to be involved.  "I work hard to provide for my family but I didn't know how to do anything else," David confided.   MOMS Health Educator and Workshop for New Dads instructor, Juan Diego Norena, invited David to the Spanish-language workshop series specifically for fathers.
During the first class, David openly expressed his confusion.  He had been taught that the man's role in the family was to work.  In the workshop the participants shared, in small group discussions and as a class, about everything from feeding their babies to marriage and their own lives.  Juan Diego talked about the physical and emotional changes their wives were experiencing.  David felt particularly moved by the call for men to step up to be good fathers and not just passive bystanders.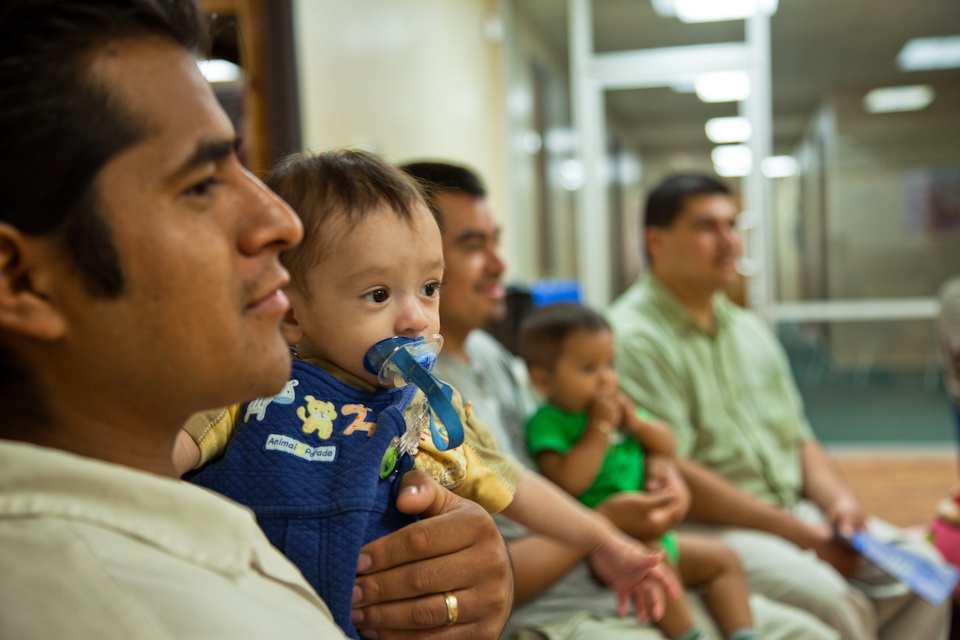 "The fathers workshop completely transformed my view of fatherhood and my role during my wife's pregnancy and my baby's life," David shares. "Whereas before, I didn't feel a need to be by my wife's side during the delivery, I realized that of course I needed to be with her – it's a once in a lifetime opportunity to support my wife and meet our baby together!"
"I saw a distinct difference in him when he began the fathers workshop," says Ivonne.  "He became much more sensitive to my needs and really stepped up to help take care of things around the house."
David, a die-hard soccer fan, would be the first to admit that there was little else that he would be willing to prioritize over his soccer matches on TV.  Nothing else could rival his passion for soccer.  Yet after David and Ivonne's participation in MOMS classes, there was a significant shift in David's soccer-love.  "David put me and our baby above everything.  When I had a doctor's appointment, he would cancel any plans to watch the game to accompany me," says Ivonne. "After Little David was born, he would watch the games with him or if the baby was crying and needed his undivided attention, he wouldn't ever hesitate to turn off the game to attend to the baby."
David chimes in, "Of course. I don't see it as any kind of sacrifice.  My family comes first."
David also received a lot of flack from friends and family.  Upon hearing that he was attending prenatal and childbirth preparation classes with Ivonne, they chided him with remarks that he was too old for such business and it was a waste of his time.
"But, after the first two classes, I was gushing and marveling so much about the wonderful things I was learning that they actually listened to me more carefully rather than dismissing me." David recalls animatedly and chuckles.
Ivonne smiles warmly and shared, "I really need to thank MOMS because David is such a great dad."
With this new found energy and enthusiasm, David recruits other dads in the prenatal and childbirth preparation classes to come to the Workshop for New Dads (Taller Para Papas).  Both David and Ivonne can hardly contain their enthusiasm and appreciation for the education and support they received from MOMS and dynamically refer others to MOMS.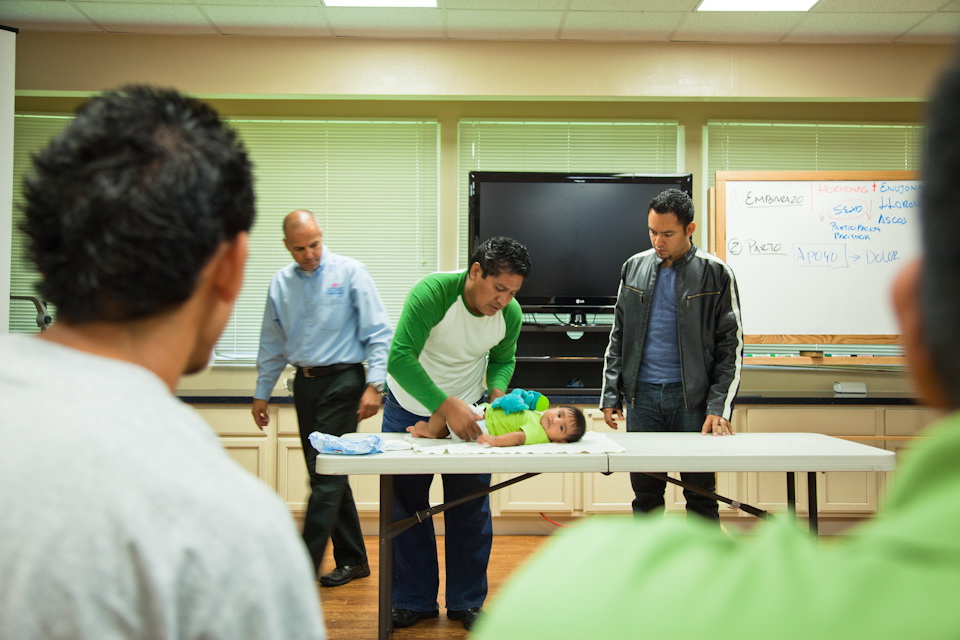 David is now a "veteran" dad volunteering in his third Workshop for New Dads.  As a veteran, he returns to the workshop with baby David armed with his baby tub, shampoo and gear to lead a "how-to" on baby bathing for the workshop participants.  David is no longer affected by the comments of family and friends but confidently displays the warm smile of a fulfilled father and husband.  "I'm an involved father and a happy father," he says.