Because of you, I am where I am.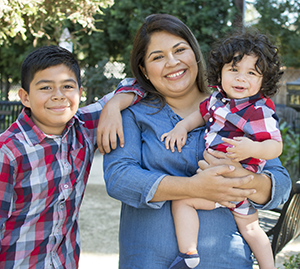 When Stephanie and her boyfriend Hector got pregnant as high school students 11 years ago, Stephanie didn't know what to do. She was recommended to MOMS Orange County and her assigned home visitor, Larissa, quickly became a vital part of her pregnancy. "I didn't know anything about pregnancy," says Stephanie, "her coming every month was the best; that was my support."
Stephanie graduated from high school five months pregnant. She gave birth to a healthy baby boy and with a lot of hard work and perseverance went on to graduate college with a degree in child development. Her son, now 11, loves to read.
Last year, Stephanie and Hector decided to have another baby. There was no doubt in either of their minds that they wanted the support of MOMS to help them through this pregnancy and to prepare for their new addition! When she received a call from MOMS to schedule the first home visit of her pregnancy, it was none other than Larissa whom she had worked with 11 years earlier! "She's amazing. She makes it personal and friendly. You can ask or share anything," Stephanie says, "There's never a wrong question."
Today, Stephanie works for MOMS as the holiday program coordinator, and hopes to one day assist other moms as a home visitor herself. "I want to help families; I want to help kids; I want to stay in my community," she says, "I keep telling the staff, I am your product. Because of you, I am where I am."