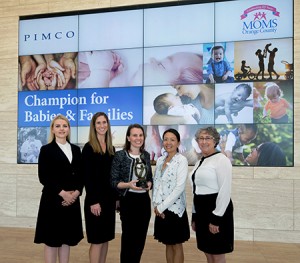 It isn't easy to become a new parent and also to work, but PIMCO helps its employees to be successful in both areas.  Because of this, PIMCO has been named Champion for Babies and Families, a new MOMS Orange County award that recognizes outstanding support of expectant employees and those who are returning to work.  PIMCO offers extensive support for employees who will become parents (either through adoption or birth), as well as for employees who are caregivers. At its Newport Beach location, the investment firm has five Mothers Rooms with private space for pumping, hospital-grade breast pumps, a refrigerator, sink and reclining chairs. It also offers Mothers Rooms at its other locations. In addition, it provides a parental leave guide, expectant mother parking, one-on-one mentoring, parenting guest speakers, family focused events, subsidized emergency back-up child care, matching funds for dependent care flexible spending accounts, and full paid leave for 16 weeks for the primary caregiver and three weeks for the secondary caregiver. To top it off, each new parent receives a basket with many of the necessities a new parent might need.
     "We highly commend PIMCO for its leadership and commitment to giving new parents the best possible start in their journey as working parents and for their support in helping Orange County families have healthy babies," said MOMS Orange County CEO Pamela Pimentel, RN.
Nominations for the 2018 "Champion for Babies and Families" award will be received beginning in Spring 2018 when the nomination form will be available on our website.