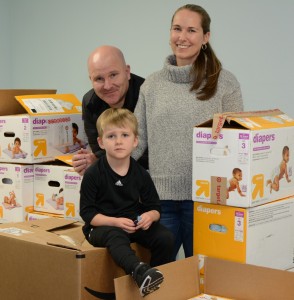 Ramsey's Birthday Gift
Four-year-old Ramsey likes to celebrate his birthday by doing something for babies.  The idea began in December 2014 when Ramsey was born.  "We were really lucky to have everything we needed and thought how desperate it would be for people who couldn't afford things for their young child," said his mom, Andrea.
So, they started a tradition with Ramsey's birthdays.  Instead of gifts, Ramsey's parents would suggest that family and friends consider donating to organizations that help mothers and babies.  "We decided to focus on diapers because you don't realize how expensive they really are. That first year, our garage was filled with boxes of diapers. We couldn't believe how generous people were."
This year, they selected MOMS Orange County and recently delivered an estimated 10,000 diapers, as well as $360 in donations.
Ramsey gets in on the action, too. "He works so hard carrying boxes, signing thank you cards, and thinking beyond himself," said his dad, Matt.  "One of the best things about Ramsey's project is getting to know organizations and exploring how we and our friends might get involved," added Andrea.
MOMS Orange County will provide diapers to families who have newborns and babies and who struggle with the cost of these items. Through our home visitation program and thanks to donors like Ramsey, families in need receive tangible support such as diapers and infant care items.  Happy birthday, Ramsey!