MOMS Orange County Workshop for New Dads (Taller Para Papas) turns 10 years this month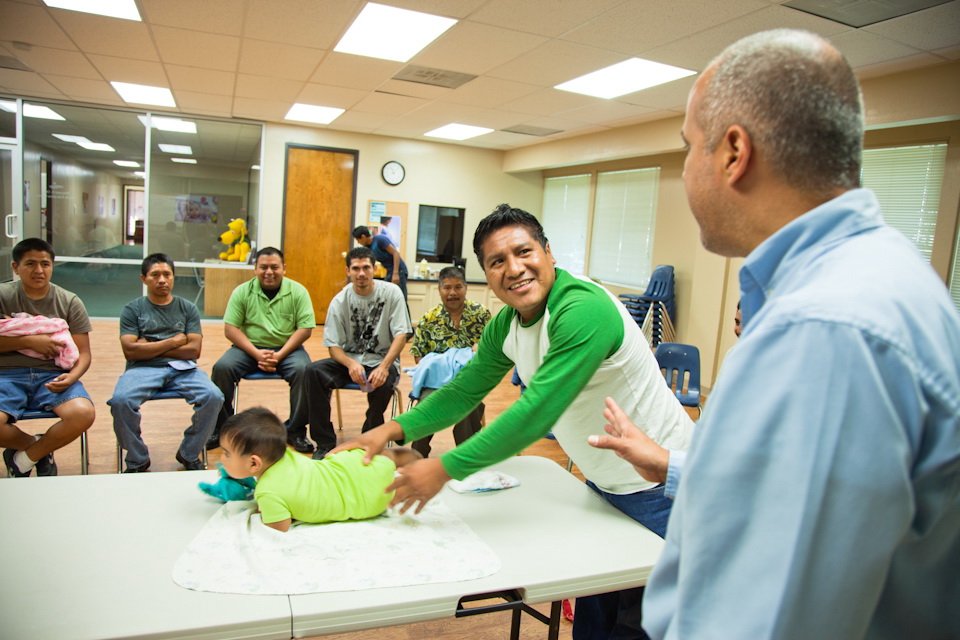 MOMS Orange County's (MOMS) Workshop for New Dads (Taller Para Papas) is a uniquely successful component of MOMS Health Education Program.  In the workshop, "veteran" fathers and their new babies act as mentors to fathers-to-be, or "rookies", in a fathers-only workshop where issues such as diapering, feeding, burping, swaddling, bathing, infant safety, holding and comforting a crying baby are discussed right along with more complex matters such as prevention of child abuse, the balance between work and family responsibilities, and the changing relationship with their partner.  Fathers are far more than just 'second adults' in the home. An involved father can have a direct impact on the well-being of their children and child outcomes, including cognitive ability, educational achievement, psychological well-being, and social behavior. This month, MOMS celebrates the 10-year Anniversary of its Workshop for New Dads Program.  In the last 10 years, more than 1,340 fathers have graduated from the Spanish-language program – one of the first of its kind nationwide – with many returning as "veteran" volunteers to support the development of quality fatherhood in our community.
In 2001, Juan Diego Norena, a dietician and nutritionist trained in Colombia, joined the MOMS Orange County (MOMS) Health Education Department as a Health Educator.  Juan Diego's contagious warmth, humor and vast knowledge quickly won him the hearts of the MOMS mothers and fathers attending his classes.  Soon after, MOMS was approached by Greg Bishop, Founder and President of the New Fathers Foundation and Head Coach of Boot Camp for New Dads.  Greg was interested in initiating a Spanish-language Boot Camp for New Dads in Orange County.  Greg found a perfect match in Juan Diego and MOMS.
Greg and Alejandro Moreno from Boot Camp for New Dads worked closely with Juan Diego to develop a culturally appropriate Spanish language version of its program, Taller Para Papas.  With the program in hand, it was now Juan Diego's task to recruit dads!  At first, he received mixed reactions from soon-to-be fathers in his prenatal classes.
"When I first approached the men about coming to a Workshop for New Dads, their first response was, 'What do you mean a program for dads? Who's pregnant? Not me.'" says Juan Diego.
The Workshop for New Dads pays close attention to the cultural experiences of MOMS clients – particularly in the Latino culture. Juan Diego explains, "For most men, they have perfectly good intentions when they say, "I will work and that's my job as a father.  You are the mother and in charge of the babies."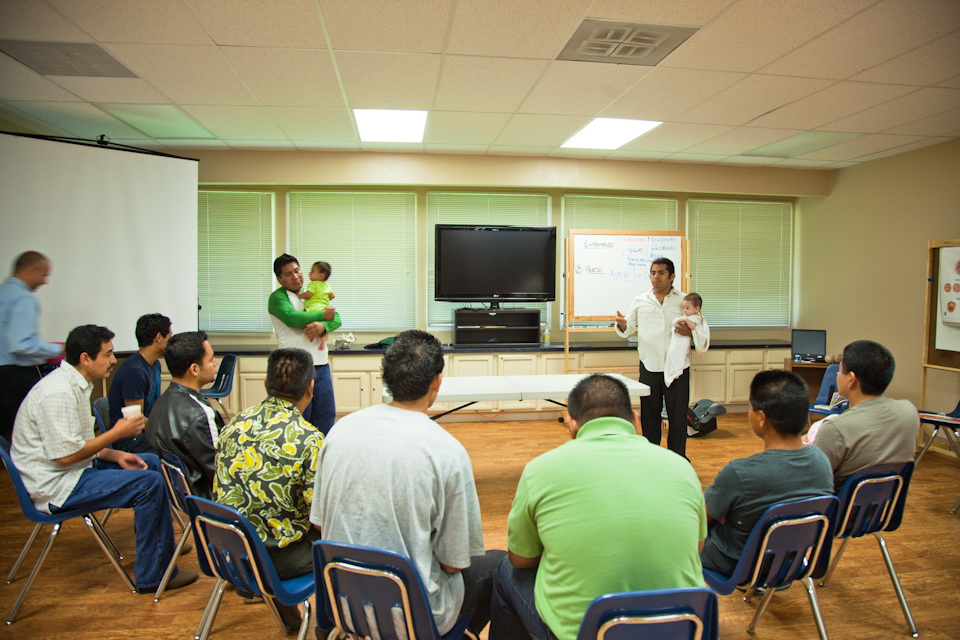 Held on two Saturdays each month with approximately 12-15 men in each workshop, couples arrive together.  The men head into the Workshop for New Dads with Juan Diego while their partners attend the Healthy Moms Workshop with Health Educator, Martha Arambula.  During the workshop, the men begin sharing personal experiences. More than 85% of participants reveal troubled relationships with their own fathers.  It is here in which the men find commonality, community and support.  The main goal is for participants to "open their hearts and minds."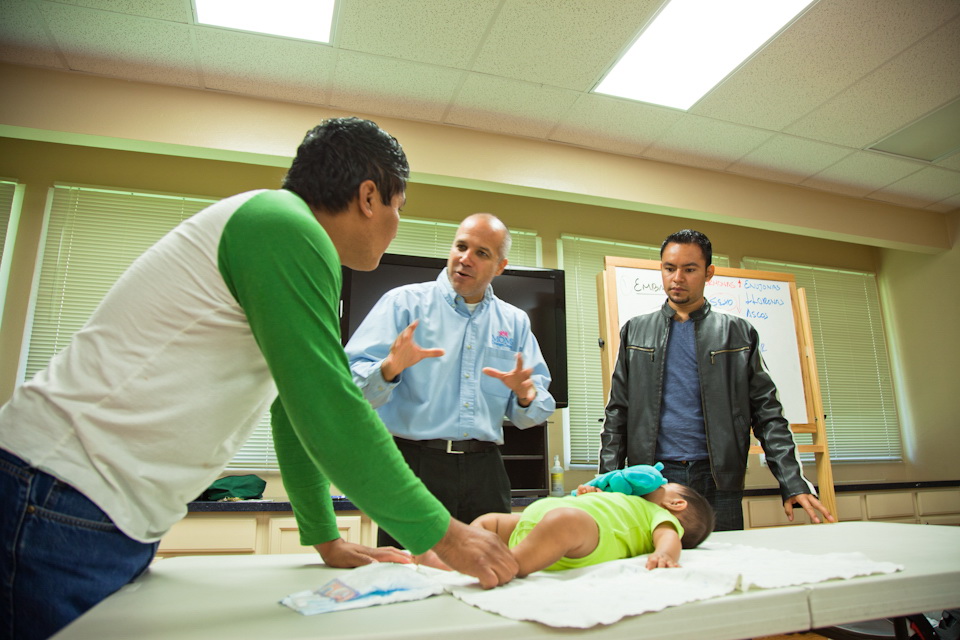 Juan Diego also shares, "Supporting your wife and participating in home life doesn't take away from your virtue of being a good man.  The choice to be involved is really about choosing to instill positive values in your children.  If you want a good future for your kids, they need to see you express affection and participation in their lives."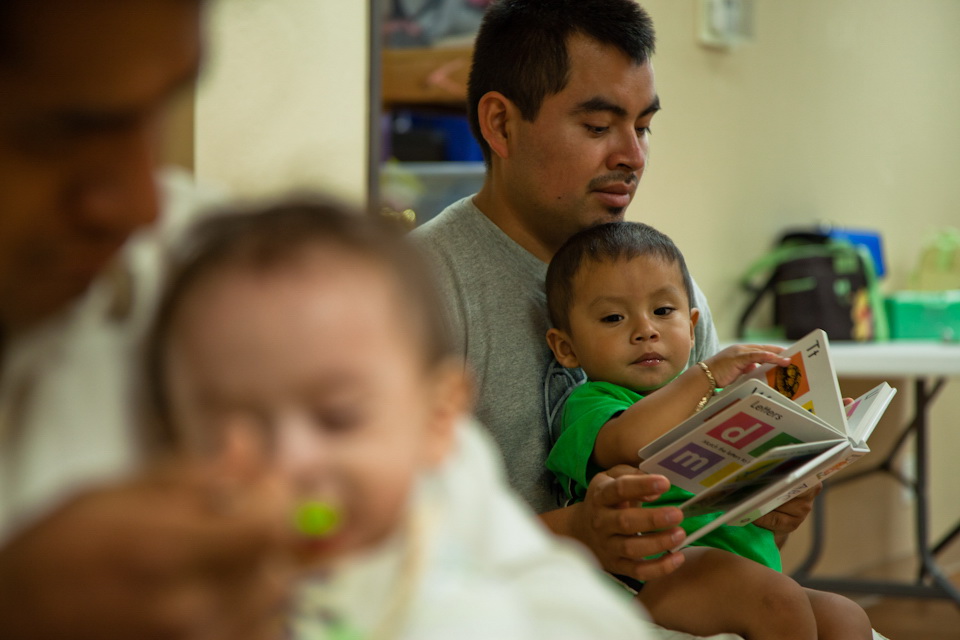 According to Juan Diego, the relationship he holds as a health educator at MOMS is one of the keys to the success and popularity of Workshop for New Dads at MOMS. "I have regular contact with clients through the other classes and with my background I am also able to deepen the content of the Workshop for New Dads with relevant information about such issues like preterm labor and the baby's development."
A key component of the workshop is also helping new fathers understand the physiological and psychological changes their wives were experiencing during their pregnancies, their vital role during labor and the post-partum period and highlights issues like post-partum depression.  "Many men have no idea about these changes until it occurs," says Juan Diego.  "I tell them, your partner is going to be tired and will need rest.  You need to help and support them physically and emotionally." Emphasis is placed on the need for patience, understanding and being supportive as the bedrock of a healthy relationship with their partners. "I encourage the fathers to be active participants in their relationships – spend time with their partners and listen to them."
Juan Diego recalls a recent participant's story: "He and his wife were having many problems and were angry, bitter and considering divorce.  After he completed the workshop, I was surprised to receive a call from his wife.  She called to thank me and shared about the transformation she saw in her husband and how much their marriage had improved.  Her husband, like many of the fathers, began attending MOMS Mommy, Daddy and Me Infant Development Class.  He is now one of my "veteran dads" and comes back to model diaper changing and help support the soon-to-be-dads."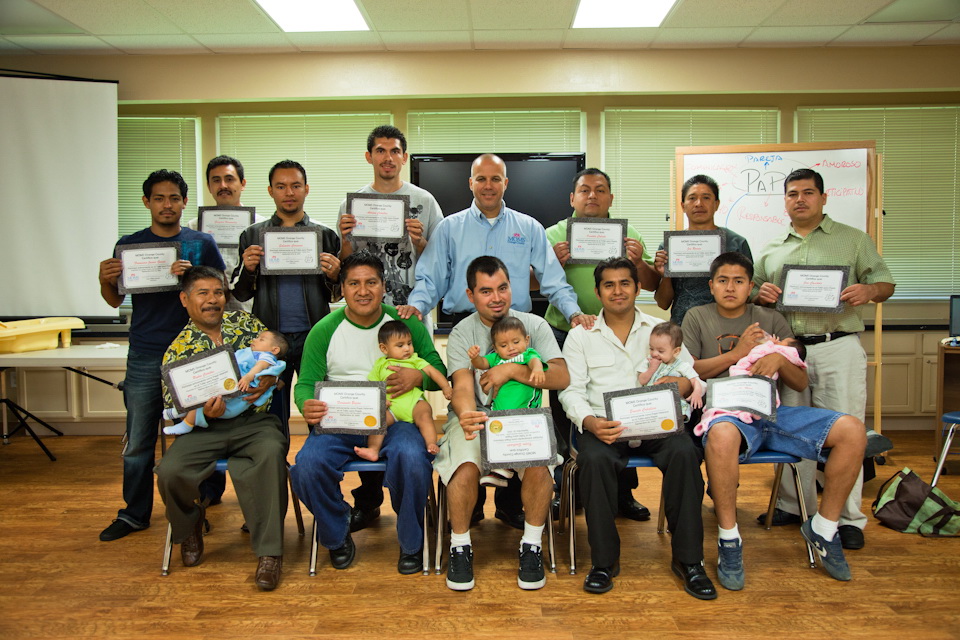 Today, 10 years after the inception of Workshop for New Dads at MOMS, Juan Diego no longer needs to call and remind new dads to attend his class.  In fact, many participants call him asking to sign-up and refer their friends and neighbors after completion. The workshop and its participants not only impact the families in the community but have even made an impression on Juan Diego himself.  "The Workshop for New Dads and the men I have met have taught me so much and inspire me to become a better father and husband to my own wife and children."
MOMS is happy to celebrate the 10th birthday of its Workshop for New Dads program and works towards another 10 years of helping communities have healthy babies.  "Our collaboration with MOMS was an instant success 10 years ago due to MOMS great connection with the mothers of Orange County who quickly understood the value of a workshop to help their mates get ready to be a father," says Greg Bishop, Founder and Head Coach of Boot Camp for New Dads.  "Ever since, MOMS has continually strengthened Taller Para Papas to help new fathers do their best for their families. We now work with organizations across the country and increasingly around the world, and none other exceeds MOMS success in supporting new dads."
For more information on MOMS Workshop for New Dads or how you can support the continued success of this program, please contact Michele Silva at msilva@momsorangecounty.org.
Workshop for New Dads…over the years!