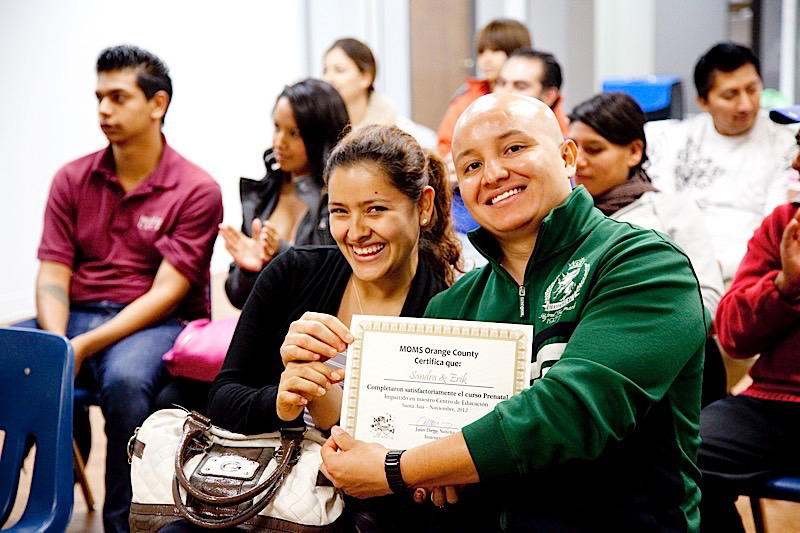 Along with home visits, MOMS Orange County offers you free classes throughout Orange County where you can meet other moms and dads, make friends, and learn together about childbirth, caring for a newborn, and helping your baby grow strong, bright and happy.
The workshop for new dads, Taller Para Papás, is for men only.  Experienced dads are there showing how to diaper, bathe, hold and comfort a crying baby.
Once your baby is 3 months old, enjoy fun activities together in class, learn how to help your baby grow strong, and meet other new parents with babies the same age.
Classes are in Spanish, English, or Vietnamese.
Some of the things moms and dads
learn in our classes
How my baby is growing during pregnancy and the importance of healthy eating and exercise
Preparing myself for labor and childbirth and taking care of myself after birth
How to better prepare for postpartum life
How to diaper, feed and comfort my baby
Successful and satisfying breastfeeding for a healthy baby and mother
Activities so my newborn grows strong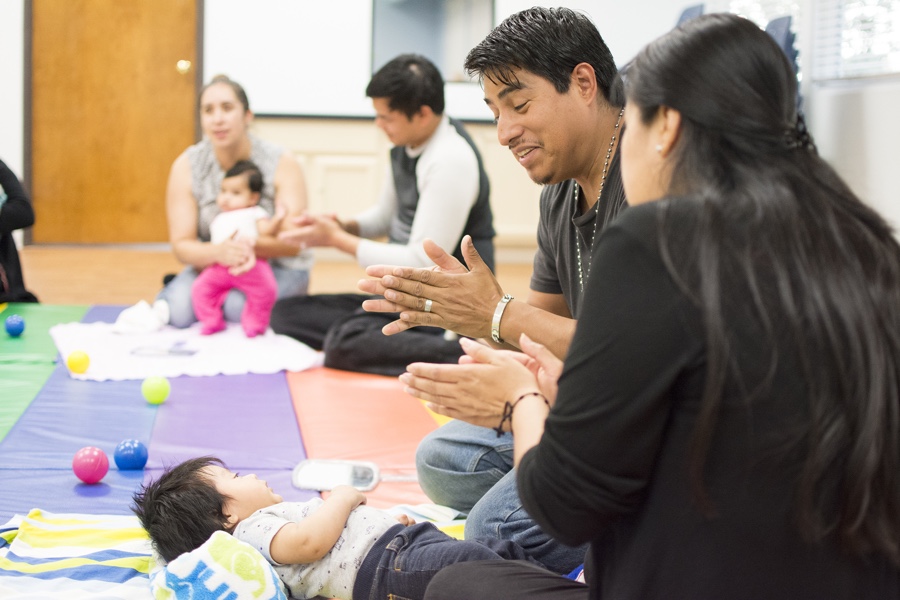 Classes and Support Groups
Prenatal Education
Classes on fetal development, prenatal care and the importance of healthy nutrition, exercise, and caring for yourself during pregnancy.
In Spanish only
Childbirth Preparation
Classes covering pregnancy anatomy, preparation for labor and delivery, medication and anesthesia options, breathing techniques, exercises and massage.
In Spanish and English (We recommend taking these classes early in your third trimester)
Preparing for Motherhood (ROSES)
ROSES stands for Reach Out Stay Strong Essentials (for mothers and newborns). Class focuses on mental health and provides you with tools to better prepare for postpartum life, how to set boundaries, and communicate with partners and family members.
In Spanish and English 
Taller para Papás Workshop for New Dads
Fathers Only
Veteran fathers and their new infants mentor fathers-to-be in diapering, feeding, burping, swaddling, bathing, infant safety, holding and comforting a crying infant. Other important topics include preventing child abuse, balancing work and family responsibilities, and the changing relationship with your mate.
In Spanish only