Prenatal, Postpartum and Mommy & Me Classes for You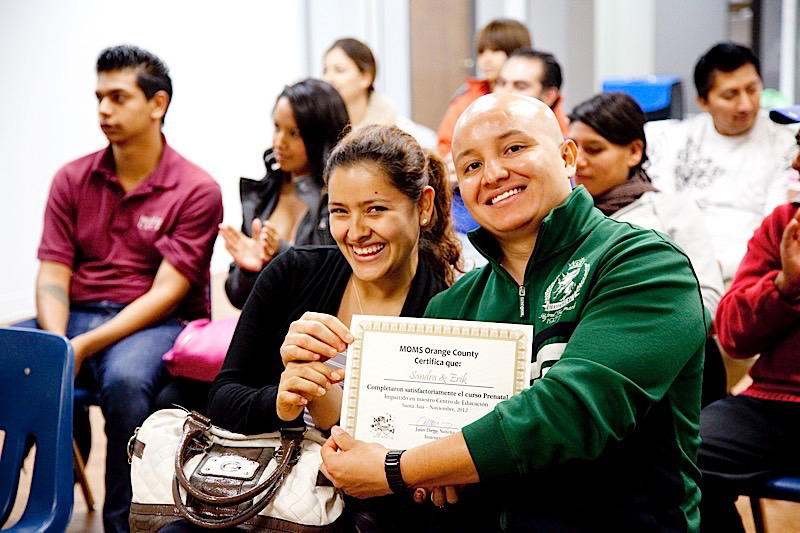 Register at (714) 352-3400
Along with home visits, MOMS Orange County offers you classes throughout Orange County where you can meet other moms and dads, make friends, and learn together about the prenatal journey, preparing for childbirth, caring for a newborn, and helping your baby grow strong, bright and happy. Special class are available for breastfeeding and postpartum support.  Along the way, you will gain knowledge, confidence and support for your journey.
The workshop for new dads, Taller Para Papás, is for men only.  Experienced dads are there showing how to diaper, bathe, feed, hold and comfort a crying baby — and so much more — including discussion about the unique influence a father has on a baby's development.
And, once your baby is 3 months old, enjoy fun activities together in class, learn how to help your baby grow strong, and meet other new parents with babies the same age.
Classes are in Spanish and English
Some of the things moms and dads
learn in our classes
How my baby is growing during pregnancy and the importance of healthy eating and exercise
Preparing myself for labor and childbirth and taking care of myself after birth
How to better prepare for postpartum life
How to diaper, feed and comfort my baby
Successful and satisfying breastfeeding for a healthy baby and mother
Activities so my newborn grows strong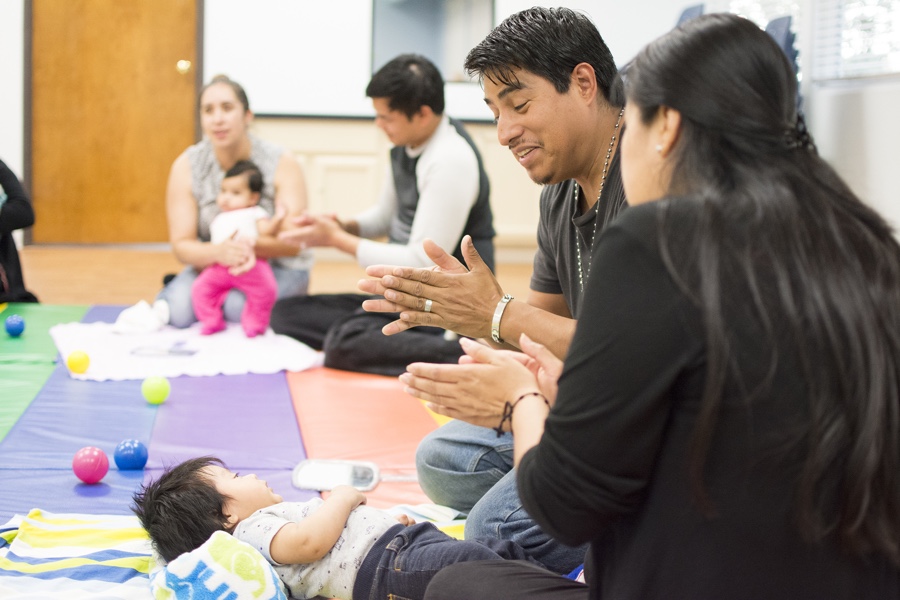 Classes and Support Groups
Register at (714) 352-3400
Childbirth Preparation
A series of 4 classes (or one Super Saturday class) prepares expectant parents and their birthing coach for labor and delivery, with information on pregnancy anatomy and descriptions of the labor and birth process as well as pain management and relaxation techniques. Dads, coaches and/or a support person are encouraged to attend. We recommend taking these classes early in your third trimester. Free
Available in English
Breastfeeding Class & Private Consultation
This 2-class series covers the basic information and education about breastfeeding: positioning, feeding techniques, how to store breast milk and corrective actions for breastfeeding problems. Dads, coaches and/or a support person are encouraged to attend. Free
The private consultation is offered for post-partum parents who may need extra support in their breastfeeding journey. Free
Available in English and Spanish
Preparing for Postpartum (ROSE)
This 4-class series is based on an evidence-based curriculum (Reach Out Stay Strong Essentials for new mothers) that has shown to reduce the risk of postpartum depression (PPD) by 50%. The class will cover topics on how to identify PPD, managing stress in transition to motherhood, building a strong social support as a buffer against PPD, redefining expectations for self and relationships and more resources for your mental health and wellbeing. This class is a safe space for pregnant persons to share, talk and better prepare when baby comes. We recommend taking this class anytime between second and third trimester. Free
Currently in Spanish only
Postpartum Support Group
Transitioning from pregnancy to motherhood is not easy and often doesn't fit your picture of what you thought it would be or what you wanted it to be. Our weekly support group of 4 sessions provides an opportunity to join other new moms and have all your questions answered and challenges addressed. Our group are always led free of judgment, with care, love and support. Free
Currently offered in Spanish only
Healthy Woman
New moms often place everyone else's needs above their own. Healthy Woman is a gift to yourself to help you develop healthy self-care skills that will benefit you for a lifetime. Over 4 sessions, we cover a range of topics including:
recognizing signs of stress, anxiety and depression
how to manage stressors and cope in a healthy way
the importance of having a community of support
planning activities outside of the home
thinking of your own needs
the importance of health care
warning signs that you need to know about
Free
Also offered in Spanish
Mommy & Me Classes
3-5 months;  12-17 months
A 4-class series. Learn activities to stimulate your baby's mental and physical development. Mothers and babies come together in a fun, creative and supportive  group environment. After graduating from Mommy & Me classes, you are given information on fun activities to do at home or with a playgroup. Free
Available in English and Spanish
My Family & Me Classes
6-11 months
A 4-class series. Mothers and their partners (or other caregiver such as a grandmother or close friend) and babies come together in a fun, creative and supportive group environment. Some of the topics covered are: benefits of talking and communicating, emotions with baby, importance of reading, and why it's important to limit media exposure time at an early age. This class is filled with lots of fun songs and hands on activities! Free
Available in English and Spanish
Workshop for Fathers
Free
This 4-part series is a safe space for men to share their experiences, concerns and challenges. Open to fathers of children of all ages. Discussion includes managing stress, finances, conflict; building a legacy, creating goals, and more. The class is provided at no cost thanks to UniHealth Foundation. Sign up today!
In English
Classes for fathers will resume in March 2023
Taller para Papás Workshop for New Dads
Fathers Only
Veteran fathers and their new infants mentor fathers-to-be in diapering, feeding, burping, swaddling, bathing, infant safety, holding and comforting a crying infant. Other important topics include preventing child abuse, balancing work and family responsibilities, and the changing relationship with your mate.  One session in evening. Free
In Spanish only
Class is temporarily on hold. Please check back.
To register, call (714) 352-3400
Meet Christina
Our Home Visitor prepared us for Allison's arrival, helping me find resources for basic needs to be sure I was healthy during my pregnancy. Once Allison was born, I attended Mommy & Me classes.  It was more than worth the one-hour bus ride each way. Seeing Allison reach her development milestones ahead of schedule and spending time with the other mothers and babies was so important to me.
So when I became pregnant with my son Richy three years later, I knew I had to invite MOMS into my home and life once again. Thank goodness I did! I again found a strong circle of support, helping me feel less alone and more empowered as a mom.