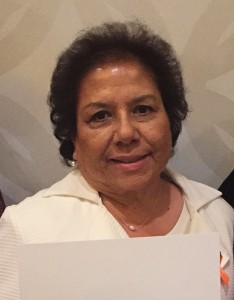 Lydia Gardner works as an administrative assistant in Disney's Distribution Center in Ontario, which houses virtually everything sold at Disneyland, California Adventure, and in the stores of Downtown Disney and resort hotels. Through Disney VoluntEARS, Disney employees like Lydia provide invaluable service to the Orange County community and have assisted many nonprofit organizations throughout the region.
About seven years ago, Lydia was introduced to MOMS and she has left an indelible mark on the organization ever since.
First, she participated in a project that transformed a room at MOMS' offices into a colorful play and learning area complete with a wall mural of Disney characters and bright furnishings. That was just the beginning.
Later, she organized Disney's contribution to MOMS' s annual Adopt-a-Family effort for her department. Through this program, families with babies who are identified as suffering from extreme poverty are adopted for Christmas and provided gifts for each member of the immediate family. As her department's coordinator, Lydia oversaw the distribution of each family member's 'wish list,' coordinated the collection of gifts from her department and even shopped for gifts, when necessary. On top of that, Lydia coordinated fundraising activities to cover other costs – with a total contribution of $3,500 from her department alone!
Additionally, the cast of Disney's "Little Monsters" provides baby clothes and other baby items to MOMS clients. Each year, Lydia has either served as the Project Leader or a VoluntEAR for this event, overseeing the collection of donations and the subsequent sorting, boxing and delivery to MOMS Orange County. With Lydia's leadership and support, the event is always extremely well-coordinated and operates seamlessly. The process typically yields 15 large boxes of much-needed baby care essentials (valued at approximately $4,600) that are distributed to low-income families in Orange County.
Lydia's other contributions to MOMS include staffing the information booth at the month-long Festival of Children held each September at South Coast Plaza. The festival offers more than 75 children's charities a free opportunity to disseminate information about the work they are doing and to reach out to potential donors and volunteers.
Another beloved project for Lydia is the Baby Olympics, held last year at the Orange County Children's Book Festival. Our Baby Olympics encouraged families to stay active and healthy and featured Olympic-themed activities, contests, prizes and live book readings by Olympic athletes. Lydia was up before dawn working the Little Monster event and then turned around that same afternoon and worked a volunteer shift at the information booth while attendees participated in a variety of fun, family-friendly activities, including Lydia's favorite event, a baby crawling race called the "diaper dash."
Lydia spreads volunteer magic wherever she goes and truly embodies the spirit of the giving to make a positive impact on our community. "We know that we are only one of the many, many community organizations that benefit from Lydia's devotion," says Michele Silva, MOMS' Chief Development Officer. "We are continuously amazed by her generous spirit and servant's heart."
As a token of our appreciation, MOMS nominated Lydia for OneOC's 2017 Spirit of Volunteerism Award, the oldest awards program in Orange County recognizing and celebrating the major involvement of community volunteers, groups and corporations. Congratulations Lydia…and thank you!