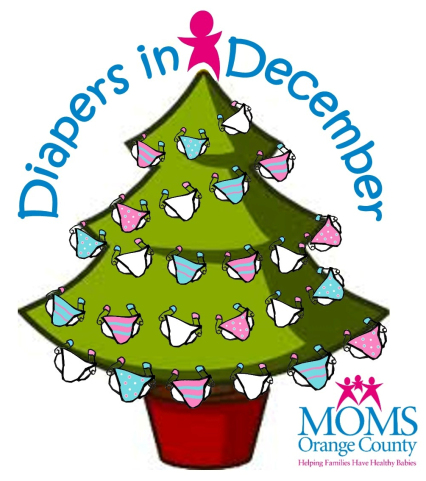 Essential items to care for a growing baby include milk, baby wipes, lots of kisses and hugs, and of course, a healthy stock of diapers! Most of us can agree that diapers are a necessary item for parents, yet, for many low-income families, having the ability to provide diapers for their baby is an ongoing challenge.
Diaper need is the struggle to provide babies with an essential need – diapers.  This is the hardship of many parents, not to mention the emotional strain and distress of not being able to provide such an essential need for their baby.
As we enter into this holiday season of family, reflection and giving thanks, please consider taking part in MOMS Orange County's Diapers in December Drive.   We are committed to helping families have healthy babies and recognize that sometimes, it starts with something as simple as diapers.
For more information on how you can get involved with Diapers in December, contact Yvonne by email at ysanders@momsorangecounty.org or by phone at (714) 352-3427.
Click here for other ways to support MOMS programs and families in Orange County this holiday season.
Click here to read Diaper Need in the U.S. and Canada (June 2010)