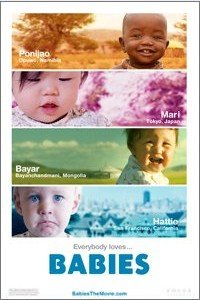 MOMS Orange County is pleased to announce a SPECIAL BENEFIT SCREENING OF BABIES  on Thursday, May 13th at 7:00pm at AMC 30 at The Block of Orange.
Join MOMS Orange County at a special benefit screening of the film, BABIES!  Directed by award-winning filmmaker Thomas Balmes, from an original idea by producer Alain Chabat, BABIES simultaneously follows four babies on an epic journey — from first breath to first steps — in Namibia, Mongolia, Tokyo and San Francisco. Re-defining the nonfiction art form, BABIES joyfully captures on film the earliest stages of the journey of humanity that are at once unique and universal to us all.
Seats are limited so get your tickets!  Tickets are $15 and can be purchased by contacting Julie by email at jvo@momsorangecounty.org or phone at (714) 352-3428.
AMC 30 at The Block is located at 20 City Blvd West, Orange, CA 92868
BABIES is a wonderful film which captures the essence of the journey of pregnancy and the wonderment of a newborn child's upbringing and development.
"You see all these different kinds of parenting and cultural contexts in an intimate way, and it shifts your perspective. We let our cultures divide us, but this film really paints a picture of the universality of being human, which we often have a hard time seeing," said San Francisco BABY Hattie's mother, "You definitely feel like all these parents are doing the right thing because they're doing it in the spirit that supports the child."
BABIES is a family-friendly film that entertains the heart and soul.  Be warned: the cute factor is high!
The mission of MOMS Orange County (MOMS) is to help women and their families have healthy babies by offering health care coordination, education, and access to community services.    MOMS is a uniquely qualified community-based organization that provides access to prenatal care, well-woman care, health screenings, developmental screenings, health education and referral services through monthly home visits and group classes to more than 5,000 low-income pregnant and parenting women in Orange County each year.  MOMS clients receive one-on-one education and support during pregnancy and through the baby's first birthday.
MOMS has been recognized by the Health Care Agency of Orange County, the California Department of Health Services, and the United States Congress for its innovative work in the community and impact on the health of women and babies in Orange County. The health of Orange County has changed because MOMS mothers access prenatal care and well-woman care; babies are born healthy and reach their developmental milestones on time; and fathers are prepared for a positive role in the family.