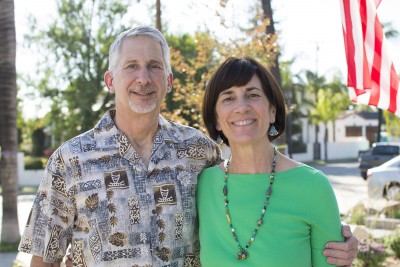 We are sad to share that Debbye Karrafa passed away unexpectedly in 2019. The MOMS Family greatly misses her and would like to acknowledge her dedication to our mission. We know you will enjoy this love story of Dave and Debbye's dedication to MOMS and to eachother. 
Dave and Debbye Karaffa had their first date over Mexican food in Houston. Back then, he didn't like Mexican food, possibly because he grew up in Pennsylvania. At the start of their relationship, he lived in Orange County and she lived in her home state of Texas. Fortunately, their respective jobs in the oil industry provided the opportunity for ongoing communication. From business calls to friendship to romance, Dave and Debbye eventually married and today call Santa Ana their home.
Now married 33 years, she is an ESL instructor at Santa Ana College, and he is Principal Manager of Supply Logistics for Southern California Edison (SCE). They have been active supporters of MOMS of Orange County for about ten years.
The couple first heard about MOMS when they were neighbors with CEO Pam Pimentel. Their daughters were friends, and Debbye started volunteering at MOMS headquarters. She helped with the Mommy and Me classes, prepared print materials, stuffed envelopes, and provided general administrative support in the office. She also participated in the Baby Olympics, staffed the booth at South Coast Plaza's Festival of Children, and helped out with the adopt-a-family program at Christmas time.
Dave got involved when Disney made MOMS one of the funding recipients of the Tinker Bell Half Marathon, an annual charity race in Anaheim. Working through his employer, Dave raised $1600 the first year, $1800 the second year, and $2500 in the third year of his participation. Both Dave and Debbye are runners in the 13.1 mile race. Dave says, "It's the perfect opportunity to combine two things we enjoy: charitable giving and running."
Dave is very proud of his employer's history of community philanthropy. SCE provided Dave with fundraising guidelines and helped with his promotion for the Tinker Bell race. Almost all of the money Dave raises for the race comes from employees of SCE. Edison International, the parent company of SCE, is one of the largest charitable contributors in Southern California, giving nearly $20 million annually to regional nonprofits. Edison International investors, not ratepayers, provide the funds donated to various organizations. In 2016, about 220 grants totaling approximately $2 million were given to Orange County nonprofits. Last year, SCE employees volunteered more than 143,000 hours, and Orange County-based employees and retirees recorded more than 21,000 of those hours. Also in 2016, a program known as "Edison Scholars" provided seven students in Orange County with college scholarships.
When asked what she would say to someone thinking about volunteering with MOMS, Debbye replied, "The organization has a wonderful mission and uses every dime to further that mission. It has a lot of integrity."
Dave added, "I am so impressed with the mission of MOMS, and at least 85 percent of their funding goes directly to their client work." He also says the work of MOMS affects him at an emotional level. He believes, "Giving children a good start by being cared for in their early years makes for happier people and a better world. MOMS is very good at identifying women at risk and stepping in to provide the help they need."