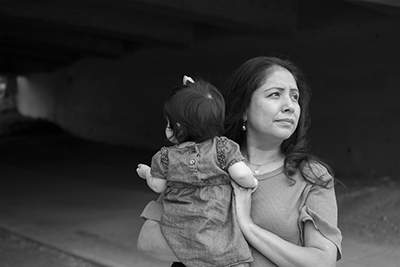 When Cristina and her husband, Richard, found out they were pregnant with their third child, they both felt excited and prepared. As a MOMS Orange County veteran, Cristina thought she knew what to expect and, this time, the support of MOMS wouldn't be necessary.
Then, the couple received shocking news. Halfway through her pregnancy, doctors discovered Cristina's baby girl would be born with a gap in the roof of her mouth, known as a cleft palate. After learning their baby would be faced with multiple surgeries and health challenges, Cristina knew she needed help from a trusted source: MOMS Orange County.
Right away, MOMS connected Cristina to her home visitor, Jessy. She became a key emotional support as Cristina processed having a baby with major health challenges, giving birth in the midst of a pandemic and not being able to access supplies like diapers and wipes due to shortages.
"It's like talking to family, someone who actually cares," Cristina says.
Cristina was unable to nurse her older children when they were babies, so Jessy quickly referred her to MOMS' breastfeeding classes. "We were worried about our baby not being able to eat and losing weight," Cristina says. Now, baby Makeyla would have every opportunity to get the nutrients needed, even with the cleft palate. Further easing Cristina's stress, MOMS also provided diapers and wipes. "Because of MOMS, I knew I was going to be able to support my baby and be there for her,"Cristina says.
Through the uncertainty of this year, your support has allowed MOMS' vital services to help so many parents like Cristina and her husband feel confident and prepared as they face the challenges of pregnancy, giving birth and raising healthy babies in these trying times.
When it came time for Cristina to give birth, the entire medical team was prepared to take baby Makeyla straight to the NICU but, amazingly, she had no cleft palate! "I was speechless," Cristina says, "my baby was perfect."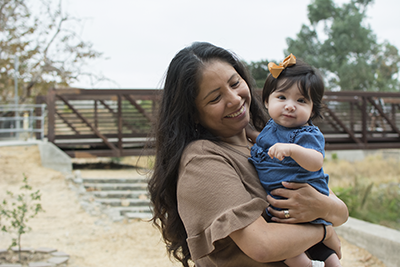 Today, Cristina is raising a healthy baby girl with continued virtual support from MOMS. She's been able to breastfeed for the first time thanks to MOMS classes and says, "it changed my whole perspective of motherhood."
Healthy and happy mothers lead to healthy and happy families. Because of you, MOMS Orange County can continue providing Cristina and thousands of vulnerable new parents the support and resources they need for themselves and their babies to thrive in the midst of difficult situations like poverty, job loss, health crises AND a pandemic.
At MOMS, we are actively working to combat the potentially disastrous effects the COVID-19 pandemic will have on the health and well-being of newborns and their families in our community.
Thank you for considering a donation today!